I am participating in
Jenny Matlock's Alphabe Thursday....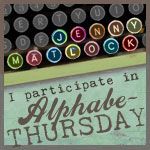 Today's letter is
Y.
Yellow is my son Alex's favorite color. It has been for a long time. I think it matches him perfectly. He's bright and sunny. It was pink until he was old enough figure out it wasn't cool for a boy to like pink. We can probably thank is big brother for that.
Y = young.... he is my baby (even though he's almost in the double digits)
E = edge.... Alex lives "on the edge", always ready for anything
L = loving... it may sound simple but Alex is very loving... he has a tender heart with people, animals and every living thing.
L = Labor Day.. Alex was a labor day weekend baby. His birthday always falls around labor day
O = olives.. this boys loves olives, especially black
W= water.. he loves the water and always has. If there is a puddle, creek, swimming pool, hose anything water related around he will be there!