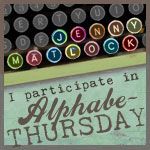 I am participating in
Jenny Matlocks Alphabe Thursday.
This weeks letter is "B"

Since the boys were pretty small Grandpa has had this tradition of every fall when the buckeyes fall off a buckeye tree near where he works he would bring the boys a few.He says they are good luck. It came from a tradition of when he was a little boy and every time this one uncle came around he always brought him a buckeye
The boys always look forward to it and always enjoy seeing who has the biggest, littlest..most in one shell. A couple of weeks ago Grandpa actually took them over to show them the tree that they had been coming from all these years. They came home with a whole bowl full!!
We visited the Botanical gardens this weekend and low and behold we found a buckeye tree. They had a great time looking around for just the perfect one with their friends.