I am participating in
Jenny Matlock's Alphabe Thursday.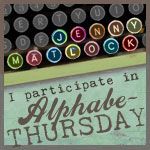 Last weekend the boys decided to rake some leaves..... they had the best time raking leaves into a big pile and then skakeboarding through the pile.... then rollerblading... then jumping. They would rake a big pile and then scatter it as they "rode" through it. Then they would start all over again, raking (actually using a big brush broom) them all into a big pile and starting all over again. The best part was seeing them work together. Skylar and Max loved it, they just couldn't stay away.


Personalize a slideshow design