This week I am participating, for the first time, in
Ms. Jenny's from "Off on my Tangent" Saturday Centus.
This week the assignment was to use 25 words not including the prompt. The prompt was "The Lottery ticket."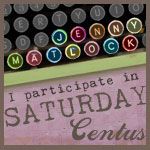 I walk into the store
I remember he said "Don't forget
THE LOTTERY TICKET
!"
I stand in line
Feeling confused
Quck pick or not?
Colorado Lotto or Powerball?