I am participating in
Ms. Jenny's Alphabe Thursday.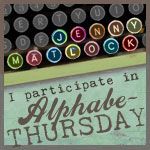 I try to avoid the news. I check my little google weather calendar every morning or ask Mark for the forecast. I find the news disturbing and negative! Call me pollyanna but I'd rather put my head in the sand. No, not really. I just figure if anything really important happens I'm sure to hear it from someone else. Is that irresponsible??
Mark bought a newspaper on Sunday. We hadn't had one in a long time. I did enjoy reading the gossip inserts inside and also enjoyed browsing the coupons but I didn't actually read the news.
I did enjoy watching the rescue of the Chilean minors a couple of months ago. It was very inspiring and heart warming to watch. I wish there were more stories like this one. I think there should be a good news channel and a bad news channel. That way you know what you're tuning in for.
Mark used to get a little "wrapped" up in the news. I would walk in and he would be talking back to the TV. I would give him an easy solution; just turn it off. Sometimes it worked.
Anywho.... Does anyone know who won the presidential election??